Closing Ceremony 100 Nights of Taps
September 11, 2021
@
6:00 pm
–
8:00 pm
We close out 100 Nights of Taps at Gettysburg National Cemetery during the evening of September 11th. There will be a brief commemoration of the events of Sept 11, 2001, and a short closing ceremony, beginning at 7 pm.
All buglers and trumpet players are invited to register to join us this evening.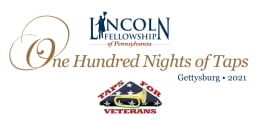 Registered Bugler(s)
Tom Sneeringer
Robert Balmer
James Shufelt
Doug Rudisill
Randall McGuire
Russ Kratzer
Joseph Pittelli
Joshua Cooper
Carlin Moore
Roy Wulf
Vicki Rice
Brooks Brady
Jeffrey Miller
Albert Trapani
Cheryl Wood
Justin Nurin
PC King
Randall McGuire
Robert Roll
Wes Snyder
Debra Skripkunis
Erin Bannon
Registration is closed for this date.
100 Nights of Taps is organized by:
(203) 770-3421
GettysburgTaps@gmail.com
Location information:
Add to Google Calendar
Event Navigation
© 2020-2021 TapsForVeterans.org