With 100 Nights of Taps we honor the fallen laid to rest at the Gettysburg National Cemetery. Beginning on Memorial Day and ending on September 11 (the 20th anniversary of 9-11), each evening a bugler will sound taps at the cemetery in Gettysburg, PA. Taps is sounded at 7 pm.
Closing Ceremonies will be held on September 11, 2021
Ceremonies include performance of Cascading Taps throughout the cemetery by all buglers who register, beginning at 6:30 pm, along with remarks by Lt. Colonel Erik Nordberg (ret.), Wendy Allen, Jari Villanueva and representatives of The Gettysburg National Military Park.
Registration link and list of registered buglers follows the video…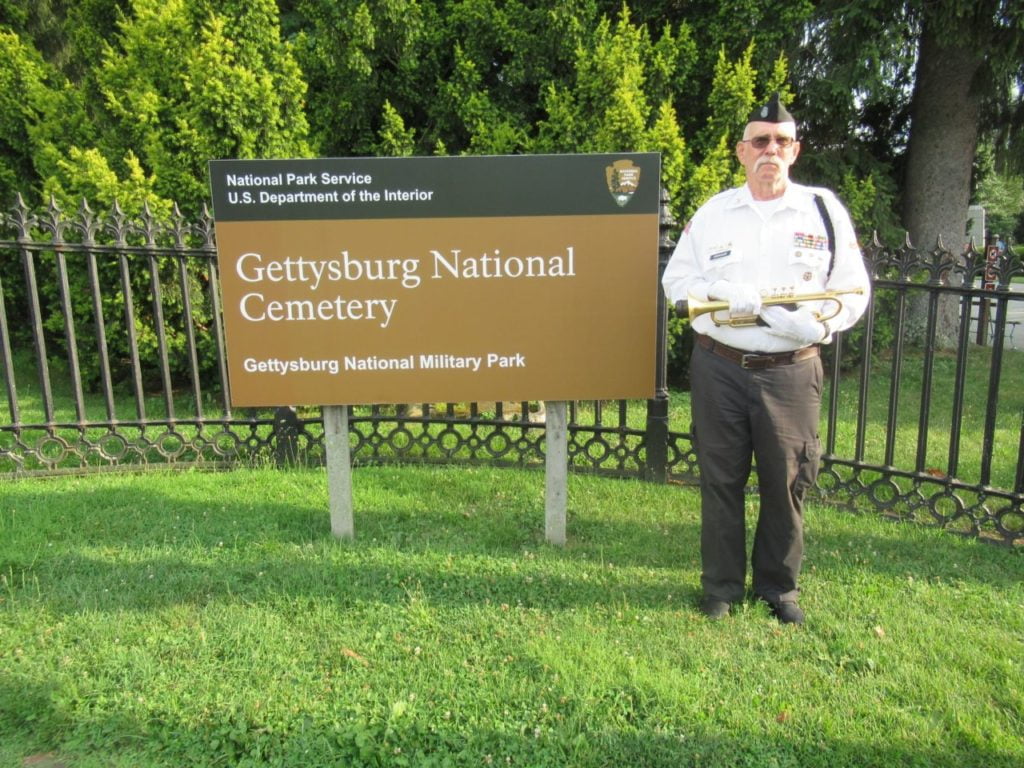 Additional special ceremonies will be held on D-Day June 6; during the Gettysburg Brass Band Festival on June 12; and Independence Day July 4. We will add additional special events as they become finalized, and will be announced on the Facebook Page and on this website.

Information about 100 Nights of Taps can be found at the video below
100 Nights of Taps is open to buglers and trumpeters of all ages.
You must register to sound Taps during the event. You may pick any open date ONLY ONE, and you may also select a second date to be a backup in case the primary bugler cannot attend. When you register you are promising to attend on the date you select, at the appointed time, and sound Taps.
Detailed information including Bugler Guidelines can be found BY CLICKING HERE
Registration is open
If you have any questions please contact us via email at GettysburgTaps@gmail.com
Wendy Allen, Founder and Coordinator
Jari Villanueva, Bugle Coordinator
DATES AND ROSTER-100 NIGHTS OF TAPS GETTYSBURG 2021
Monday May 31-Opening Ceremonies ALL BUGLERS WELCOME
Tuesday June 1- Vanessa Shenk
Wednesday June 2-Christian Snouffer, Yoe PA
Thursday June 3-Kevin McCarty, Mount Holly Springs PA
Friday June 4-Herb Payung, Hellertown PA
Saturday June 5-Shirley Ann Walker, Medina OH
Sunday June 6-Special D-Day Observance Steven Snyder Rosendale NY
Monday June 7-Al Ingalls, Ellicott City MD
Tuesday June 8-Amy Gabriele, Harrisburg PA
Wednesday June 9-Tom Sneeringer, Washington DC
Thursday June 10-Ryan Gebhart, East Berlin PA
Friday June 11-Brian Wilkie, Breinigsville PA
Saturday June 12-Gettysburg Brass Band Festival ALL BUGLERS WELCOME
Sunday June 13-Tom Hehman, Salisbury MD
Monday June 14-LLoyd McDonald, Jasper GA
Tuesday June 15-Drew Podnar, Mckees Rocks PA
Wednesday June 16-George Boyd, Reading PA
Thursday June 17-Peter Sharrock, Central Islip NY
Friday June 18-Andrew Bisnett, Stillwater NY
Saturday June 19-Graham Bentley, Columbus OH
Sunday June 20-John Baker, Nottingham MD
Monday June 21-Cancelled due to storm
Tuesday June 22-John Thomas, Bangor ME (Eternal Light Memorial)
Wednesday June 23-John Lupp, Littlestown PA
Thursday June 24-James McDevitt, Southampton PA
Friday June 25- Kevin Czarnik, Saint Clair Shores MI
Saturday June 26-Scott Raup, Henrico VA
Sunday June 27-Robert Roll, Phelps NY
Monday June 28-Craig Perosi, Pasadena MD
Tuesday June 29-Anthony June, Malvern PA
Wednesday June 30-Charles Aschmann, Fort Valley GA
Thursday July 1-Ralph Brodt, Bethlehem PA
Friday July 2-Kevin Rushton, Anderson IN
Saturday July 3-Jay Copenhaver, New Stanton PA
Sunday July 4-INDEPENDENCE DAY All Buglers Welcome
Monday July 5-Max Osborn, Lucas Fleming, Towson MD
Tuesday July 6-Raymond Nelson, Indianapolis IN
Wednesday July 7-Warren Prender, Chester MD
Thursday July 8-Jillian Miller, Horsgham PA
Friday July 9-Lisa Gardella, Oakville CT
Saturday July 10-Nathaniel Bauder Ovid NY
Sunday July 11-Brady Brooks, Gibsonia PA
Monday July 12-Adam Hill, Springfield VA
Tuesday July 13-Joycelyn England, Martinsville IL
Wednesday July 14-Michael Kinkade, San Antonio TX
Thursday July 15-Damon Morris, Kulpmont PA
Friday July 16-Ryan Bowden, New Castle PA
Saturday July 17-Albert Lilly, Martinsville IN
Sunday July 18-Judith Shellenberger, Williamsport PA
Monday July 19-Mitchell Mummert, Gettysburg PA
Tuesday July 20-Robert Slamp, Huntsville AL
Wednesday July 21-Ryan Resky, Lindenhurst NY
Thursday July 22-David Miller and Andrew Balio, Pasadena MD
Friday July 23-Bill Dodds, Melbourne FL
Saturday July 24-Vince Pettinelli, Alpha NJ
Sunday July 25-Nicholas Brown, Bowie MD
Monday July 26-James Old, Catonsville MD
Tuesday July 27-Jeff Stockham, Syracuse NY
Wednesday July 28-David Apple, Westminster MD
Thursday July 29-Kenneth Bair II, Landisburg PA
Friday July 30-Doug Rudisill, Gettysburg PA
Saturday July 31-Harry Dillon, Tyrone PA
Sunday August 1-Jeff Miller, Evans Mills NY
Monday August 2-Mark Stallins, Aurora CO
Tuesday August 3-Ralph Harris, Albuquerque, NM
Wednesday August 4-Ken Young, Cortland OH
Thursday August 5-James Miller, Centreville VA
Friday August 6-Holly Legate, Clark's Summit PA
Saturday August 7-Wes Snyder, Dallastown PA
Sunday August 8-Albert Trapani, Gettysburg PA
Monday August 9-Caitlyn Sanders, Ellicott City MD
Tuesday August 10- Kaitlynn Gaff, Middle River Maryland
Wednesday August 11-James Rodgers, Taneytown MD
Thursday August 12-William Betts, Bellmawr NJ
Friday August 13-Stephen Bottom, Jeffersontown KY
Saturday August 14-Keith DeFontes, Parkville MD
Sunday August 15-Russ Ebersole, Mount Vernon NY
Monday August 16-David Beier, Madison AL
Tuesday August 17-
Wednesday August 18-Ivan Frantz, York PA
Thursday August 19-Mitchell Mummert, Gettysburg PA
Friday August 20-Christian Hackett, Bethlehem PA
Saturday August 21-David Bufallni, Aliquippa PA
Sunday August 22-Ronald Glazer, Clear Spring MD
Monday August 23-PC King, Mount Wolf PA
Tuesday August 24-Donald Roeder, Bolling Springs PA
Wednesday August 25-John Baker, Nottingham MD
Thursday August 26-Jamie Cope, Arendtsville PA
Friday August 27-Erin Bannon, York PA
Saturday August 28-Debra Skripkunis, Exeter PA
Sunday August 29-Kevin Rakszawski, Hummelstown PA
Monday August 30-Nancy Hale, Canton NY
Tuesday August 31-Harold Collins, Sevierville TN
Wednesday September 1-Galen Gish, Mechanicsburg PA
Thursday September 2-Pete Long York, PA
Friday September 3-Nicholas Rotunda, Columbia MD
Saturday September 4-Jim Shufelt, Carlisle PA
Sunday September 5-Nancy Hale, Canton NY
Monday September 6-
Tuesday September 7-Lou DiLeo, Seaford NY
Wednesday September 8-Ryan Fox, Abbottstown PA
Thursday September 9-Randall McGuire, Rowlett TX
Friday September 10-Robert Balmer, Warren MI
Saturday September 11-Closing ceremony All Buglers Welcome!! Start time is 6:30 pm

Thanks for taking of your time and talent to be part of 100 NIGHTS OF TAPS GETTYSBURG 2021!
Wendy Allen, founder 100 Nights of Taps Gettysburg
Jari Villanueva, bugler coordinator